About Us
Proudly Serving Austin since 2009!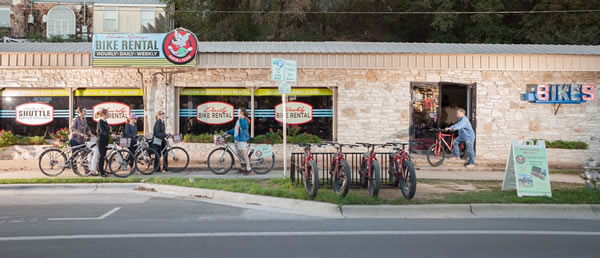 Founded in November 2009, Barton Springs Bike Rental is one of the few locally owned and operated bike shops in town. Having lived in Austin for over 25 years, owner Mark Mitchell created the shop to offer something completely different to locals and tourists alike. What sets B.S. Bikes apart are that we are entirely devoted to offering the highest level of customer service around. Not only that, but our location is unmatched. We are situated next to Austin's favorite outdoor oasis, Zilker Park, as well as the beautiful 10-mile hike and bike trail that surrounds Lady Bird Lake. Come on down to the shop to start your ride!
Want to grab a bite to eat, or something to drink after your ride? Barton Springs Bike Rental is located within walking distance of numerous local establishments such as The Shady Grove, Chuy's, Austin Java, Baby A's, Uncle Billy's Brew and Que, Green Mesquite BBQ, and the newly opened Barton Springs Food Trailer Picnic area and more!
But that's not all by far. If you're new to town, or a local who just wants to learn more about the city in which you live, we've got you covered. B.S. Bikes not only offers rentals, but we also provide the best bike tours in town. Our professional tour guides have all gone through rigorous training and all are "Texpert" Certified. This means that they can offer you the best explanations of historical sites, monuments, and just plain "weird" stories of Austin as you roll along the way. With a combined 25 years of tour guide experience between all of the staff, we can say with confidence that our guides provide unparalleled quality tours.
So what are you waiting for?? The BEST way to see Austin is on a bike—and the BEST place to rent from in terms of location, customer service, and deals is from all of us here at Barton Springs Bike Rentals! Come on down today—and remember, repeat customers receive a 10% discount every time they rent!
Open every day from 9am - 6pm!