Now Accepting ACL 2018 Reservations!
Bike Rentals
For ACL 2018 Rentals call the shop at 512-480-0200 or email
reservations@bartonspringsbikerental.com
We charge a minimum of 1 hour and prorate to the nearest 5 minutes after the first hour. After 3 hours you've reached our day rate and can keep the bikes till the end of the business day for no extra charge. You may also keep the bikes for a full 24 hours by paying a single overnight insurance fee. With our weekly rate, you're only paying for 3.75 days, but can keep the bikes up to 7 days for that price. All rentals come with helmets, locks, lights, baskets, and roadside assistance during our business hours.
---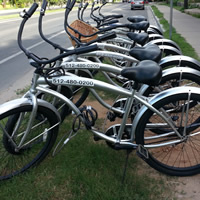 BEACH CRUISERS
$7.50/hour, $22.50/day, $85/week + $5 One time overnight fee
*For same day rentals (pick up and return on the same day), please call the shop directly at 512.480.0200 to reserve
---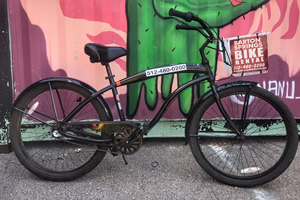 MULTISPEED CRUISERS
$9.50/hour, $28.50/day, $105/week + $5 One time overnight fee
*For same day rentals (pick up and return on the same day), please call the shop directly at 512.480.0200 to reserve
---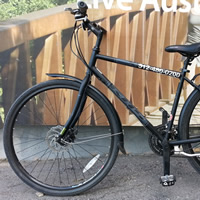 HYBRID
$11.50/hour, $34.50/day, $125/week + $5 One time overnight fee
*For same day rentals (pick up and return on the same day), please call the shop directly at 512.480.0200 to reserve
---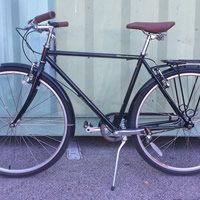 "HIPSTER" HYBRID
$11.50/hour, $34.50/day, $125/week + $5 One time overnight fee
*For same day rentals (pick up and return on the same day), please call the shop directly at 512.480.0200 to reserve
---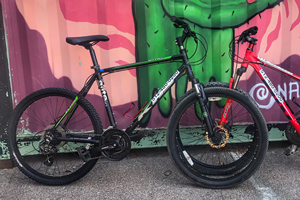 MOUNTAIN BIKE
$11.50/hour, $34.50/day, $125/week + $5 One time overnight fee
*For same day rentals (pick up and return on the same day), please call the shop directly at 512.480.0200 to reserve
---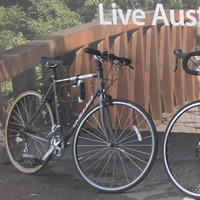 ROAD BIKE
$14.50/hour, $43.50/day, $155/week + $10 One time overnight fee
*For same day rentals (pick up and return on the same day), please call the shop directly at 512.480.0200 to reserve
---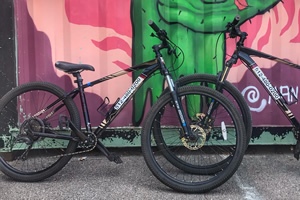 PREMIUM MOUNTAIN BIKE
$14.50/hour, $43.50/day, $155/week + $10 One time overnight fee
*For same day rentals (pick up and return on the same day), please call the shop directly at 512.480.0200 to reserve
---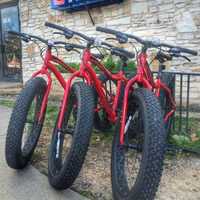 FAT BIKE
$14.50/hour, $43.50/day, $155/week + $10 One time overnight fee
*For same day rentals (pick up and return on the same day), please call the shop directly at 512.480.0200 to reserve
---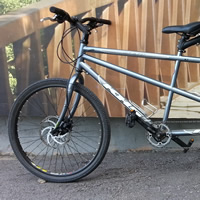 TANDEM (TWO-PERSON BICYCLE)
$14.50/hour, $43.50/day, $155/week + $10 One time overnight fee
*For same day rentals (pick up and return on the same day), please call the shop directly at 512.480.0200 to reserve
---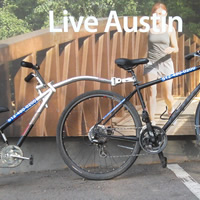 TAG-A-LONGS (ATTACHES TO HYBRID)
$5.50/hour, $16.50/day, $65/week + $5 One time overnight fee
*For same day rentals (pick up and return on the same day), please call the shop directly at 512.480.0200 to reserve
---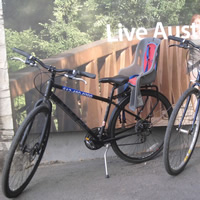 KIDS SEAT (ATTACHED TO HYBRID)
$5.50/hour, $16.50/day, $65/week + $5 One time overnight fee
*For same day rentals (pick up and return on the same day), please call the shop directly at 512.480.0200 to reserve
---
$5.50/hour, $16.50/day, $65/week + $5 One time overnight fee
*For same day rentals (pick up and return on the same day), please call the shop directly at 512.480.0200 to reserve
---
We also guarantee roadside assistance for each bike rental