What is the ATX Pass?
Save more than 40% while seeing the best Austin has to offer. The five-day ATX Pass gives you access to more than 20 tours and activities. You can customize your very own itinerary. Whether taking a bus tour, going on a food or beer tour, visiting a museum, or taking a boat cruise on Lady Bird Lake, the ATX Pass saves you money while enabling you to make the most of your time in Austin.
Bike Rentals
For ACL 2019 Rentals call the shop at 512-480-0200 or email:
reservations@bartonspringsbikerental.com
We charge a minimum of 1 hour and prorate to the nearest 5 minutes after the first hour. After 3 hours you've reached our day rate and can keep the bikes till the end of the business day for no extra charge. You may also keep the bikes for a full 24 hours by paying a single overnight insurance fee. With our weekly rate, you're only paying for 3.75 days, but can keep the bikes up to 7 days for that price. All rentals come with helmets, locks, lights, baskets, and roadside assistance during our business hours.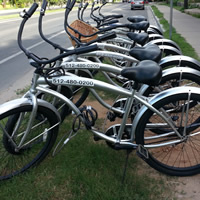 BEACH CRUISERS
$7.50/hour, $22.50/day, $85/week + $5 One time overnight fee
*For same day rentals (pick up and return on the same day), please call the shop directly at 512.480.0200 to reserve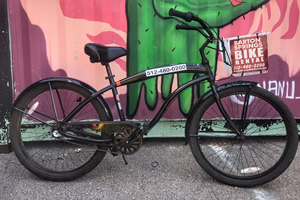 MULTISPEED CRUISERS
$9.50/hour, $28.50/day, $105/week + $5 One time overnight fee
*For same day rentals (pick up and return on the same day), please call the shop directly at 512.480.0200 to reserve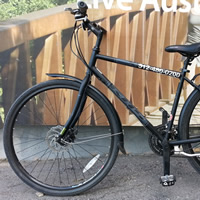 HYBRID
$11.50/hour, $34.50/day, $125/week + $5 One time overnight fee
*For same day rentals (pick up and return on the same day), please call the shop directly at 512.480.0200 to reserve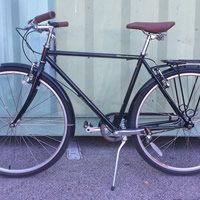 "HIPSTER" HYBRID
$11.50/hour, $34.50/day, $125/week + $5 One time overnight fee
*For same day rentals (pick up and return on the same day), please call the shop directly at 512.480.0200 to reserve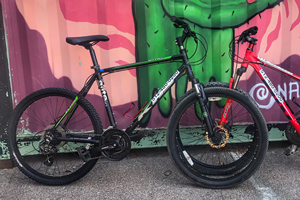 MOUNTAIN BIKE
$11.50/hour, $34.50/day, $125/week + $5 One time overnight fee
*For same day rentals (pick up and return on the same day), please call the shop directly at 512.480.0200 to reserve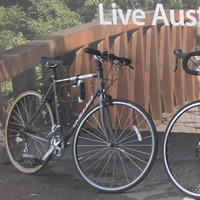 ROAD BIKE
$14.50/hour, $43.50/day, $155/week + $10 One time overnight fee
*For same day rentals (pick up and return on the same day), please call the shop directly at 512.480.0200 to reserve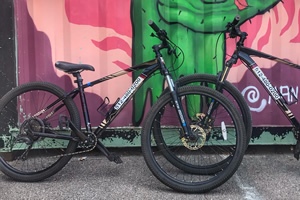 PREMIUM MOUNTAIN BIKE
$14.50/hour, $43.50/day, $155/week + $10 One time overnight fee
*For same day rentals (pick up and return on the same day), please call the shop directly at 512.480.0200 to reserve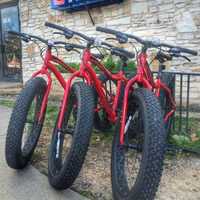 FAT BIKE
$14.50/hour, $43.50/day, $155/week + $10 One time overnight fee
*For same day rentals (pick up and return on the same day), please call the shop directly at 512.480.0200 to reserve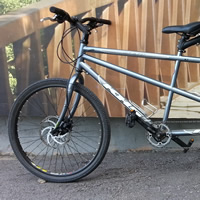 TANDEM (TWO-PERSON BICYCLE)
$14.50/hour, $43.50/day, $155/week + $10 One time overnight fee
*For same day rentals (pick up and return on the same day), please call the shop directly at 512.480.0200 to reserve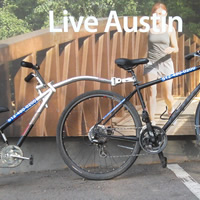 TAG-A-LONGS (ATTACHES TO HYBRID)
$5.50/hour, $16.50/day, $65/week + $5 One time overnight fee
*For same day rentals (pick up and return on the same day), please call the shop directly at 512.480.0200 to reserve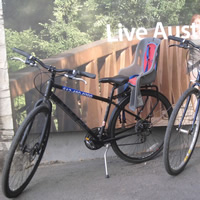 KIDS SEAT (ATTACHED TO HYBRID)
$5.50/hour, $16.50/day, $65/week + $5 One time overnight fee
*For same day rentals (pick up and return on the same day), please call the shop directly at 512.480.0200 to reserve
$5.50/hour, $16.50/day, $65/week + $5 One time overnight fee
*For same day rentals (pick up and return on the same day), please call the shop directly at 512.480.0200 to reserve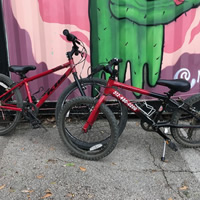 KIDS BIKES
$5.50/hour, $16.50/day, $65/week + $5 One time overnight fee
*For same day rentals (pick up and return on the same day), please call the shop directly at 512.480.0200 to reserve
We also guarantee roadside assistance for each bike rental