What is the ATX Pass?
Save more than 40% while seeing the best Austin has to offer. The five-day ATX Pass gives you access to more than 20 tours and activities. You can customize your very own itinerary. Whether taking a bus tour, going on a food or beer tour, visiting a museum, or taking a boat cruise on Lady Bird Lake, the ATX Pass saves you money while enabling you to make the most of your time in Austin.
Where to Ride?
Barton Springs Bike Rental is ideally located in the midst of Austin's hike and bike trails. Just a few hundred feet to the Town Lake Trail, Zilker Park and Barton Springs Greenbelt--there is no need to worry about cars! 

We provide detailed color maps of the surrounding trails along with our expert advice. 
The Lady Bird Lake Trail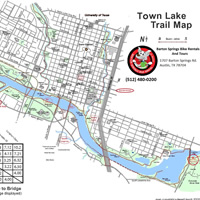 Located less then one block from Barton Springs Bike Rental is easy safe access to Austin's longest bike friendly trail! The trail does run around the lake so it is for the most part water level, and moderately flat. The trail is crushed granite, and is a very easy leisurely ride.
The Shoal Creek Trail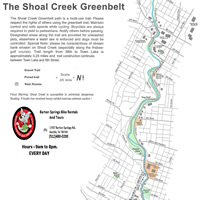 Ride through the city without the traffic! The Shoal Creek trail runs from the northern portion of the lady bird lake 3.25 miles north to 38th street.
The Barton Creek Green Belt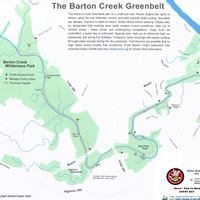 Mountain bike the Barton Creek's green belt! This is a rougher, technical, more advanced trail outside the realm of our roadside assistance. The Green belt trail offers 7 miles of rugged bouncing goodness, and is located less then 1 mile from Barton Springs Bike Rental.